At Fairview Dentistry, we understand how important family is to you. Our dentists will work with you to keep your children's oral health on track as their smiles grow.
---
Your Child's First Visit
The dental health of your family is important to us, and that's why we want to make sure your children maintain their oral health. Together, we will help educate your family on good home care routines to help your kids start their oral habits off healthy!
We strive to help your kids feel comfortable - our team will walk you through the process of introducing your children to visiting the dentist. We'll teach them how to brush their teeth properly and to hopefully have some fun too!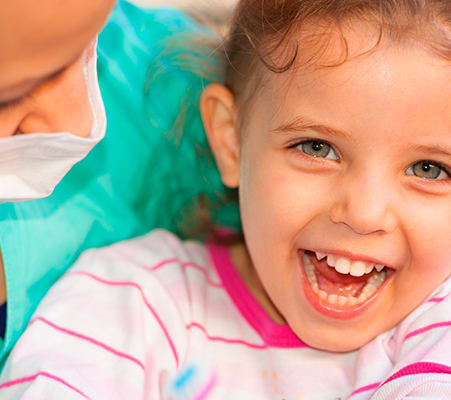 How often should my child visit the dentist?
At Fairview Dentistry we recommend that you bring your family to visit the dentist twice a year at least, or more often recommended by our dentists based on your oral health needs.
We will do a thorough assessment of their overall oral health and help them become comfortable with our team.
During your child's appointment, we will show them:
How to brush their teeth
How to floss their teeth
How often to brush and floss for a healthy smile
We're happy to help introduce your family to our team and services. Request an appointment, and learn more about how we can help your family! Request Appointment
---
Canada Dental Benefit for children under 12
Starting in December 2022, eligible families that do not have dental insurance can receive up to $650 per child to cover dental expenses, depending on household income. Eligible services include oral surgery and diagnostic, preventative, restorative, endodontic, periodontal, prosthodontic, and orthodontic services.*
Household Income
Maximum Annual Benefit
per Child**
Under $70,000
$650
$70,000 to 79,999
$390
$80,000 to $89,000
$260
You can apply for the benefit through the CRA. To find out if you are eligible, visit the Government of Canada website.
*Services are subject to change, as indicated by the government of Canada.
**Benefit coverage amount is subject to adjustment, as indicated by the government of Canada.
Let Us Help You Smile
We are your St. Thomas dentist for the whole family. Learn how we can make a difference in your smile.